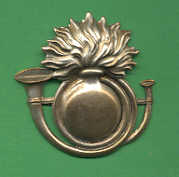 Welcome to this website devoted to French Customs badges and patches.
The decree of February 14th, 1800 gave to Customs its first uniform, it fixed on the garment the green color and its first badges.In 1852 the red band appeared on the blue trousers. In 1875, the grenade in the hunting horn became the distinctive badge of customs units. The hunting horn echoes the integration of customs battalions to the mountain troops, and the grenade, reminds their heroic behaviour during the Napoleonic wars which emphasizes that these formations were regarded as elite troops.
More than two hundred years later, operational units always wear with pride their uniform and theirs badges.
I am a french customs officer and customs badges collector as well...
This unofficial site shows you my collection that I started in 1976.
I hope it will be pleasant for you.
BRIAND Roland